Choose Us For Your Solar Power System Installation
Our Albuquerque electricians install quality home and commercial solar photovoltaic systems to help lower your energy bills. The systems we install are reliable, high-performance models.
Take advantage of our installation skills today and we'll install your solar power system right. You'll be able to take advantage of the federal tax credit too, which allows you to deduct 30% of the installation costs.
Here are a few of our favorite brands but we do install other makes and models:
Solar Edge
Enphase
SolarWorld
Canadian Solar
Hyundai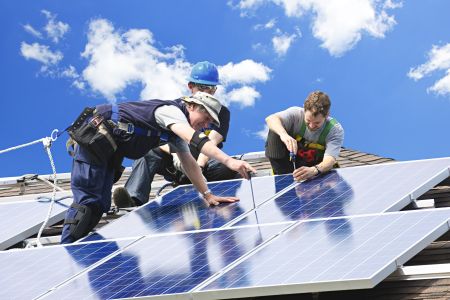 Get An Easy To Monitor Solar Power System
It's really great to be able to monitor the performance of your solar power system via satellite. We install all types of solar systems, but one of our favorites is from Solar Edge. Their satellite performance ratio monitoring system lets you know how the equipment is performing at all times.
No sensor installation needed
No calibration
No maintenance required
Prevents inaccurate measurements
Daily & monthly PR calculations
Gives 12 months of historical data
See problems as they happen
Take Advantage Of Our High-Performance Solar Power Systems
Our electricians install the best solar panels made right here in the USA. We have the complete solutions for the entire solar system whether it's a large-scale commercial electrical project or small system for your home.
Maximum energy output
Comprehensive warranties
Lock in electric rates
Highest standards of quality
If you are looking for an Electrician in the Albuquerque area for Solar Installation, please call 505-246-6922 or complete our