Save Energy With Modern Commercial Lighting Installation
From LED's, halogen, and fluorescent lighting to recessed, security, signage, and pole lighting, our expert electricians can install, repair, or maintain all of your commercial lighting equipment both inside and out.
Our commercial lighting electricians are highly trained and ready to help you maximize the benefits of your lighted signs and other lighting systems. We provide quality service and support at all times.
For new installations, we will work closely to help you select the right light fixtures and the best layout plan for your business. However, we provide a full range of commercial electrical lighting services including:
Lighting repair
LED retrofits
Sign lighting
Canopy lighting
Indoor lighting
Security lighting
Energy efficient lighting
and more

Don't Just Use LED Bulbs - Save Energy With A Lighting Retrofit
Energy efficiency is on every business owner's mind today, but you don't get much by just using an LED bulb in an old fixture. Let us help you find the best lighting solutions to help really save on the building's energy bill. We can also help you with solar.
We can help you maximize energy savings and improve light quality while helping to maintain maximum efficiency on a long-term basis. We will be there to be sure your lighting systems are always working properly and working at maximum energy efficiency.
Replaces outdated energy-hogging light fixtures
More energy efficient building
Long-lasting bulbs
Back Up Main Lights With Recessed Lights
Recessed lighting can be installed just about anywhere in and outside a commercial building. The main purpose of recessed lighting is to act as a backup source for the brighter lights of the building. They are great for entryways, on stairs, patios, ceilings, and shelves.
Let us install LED recessed lighting for you. You will enjoy the energy efficiency of the fixture as well as the long-life of the bulbs.
Increase illumination in certain areas
Make steps and entryways safer
Enhance the beauty of the building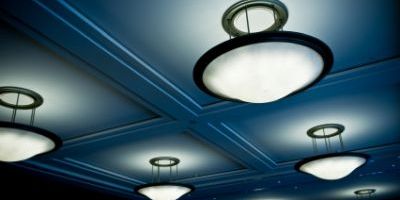 Fix Those Blinking Lights Before Disaster Strikes
Don't let your lights cause a building fire. They very well could be shorting out somewhere behind the scenes. While this may be rare, you don't want to take a chance. Just give us a call to request lighting repair service now.
Recent Articles
Why Your Outlet Isn't Working
You're about to go to bed, and your dead phone is in your hand. You plug it into the wall outlet by your bed, and go to sleep thinking that it will be fully charged when you awaken. However, you wake up groggy and without a charged phone, and you wonder why. […]
Read More
The Importance of Electrical Safety Inspections
Hiring an electrician to check out your electrical wiring in Albuquerque may seem like a hassle at first, but scheduling electrical safety inspections is extremely important to the well-being of your home and family. The National Fire Protection Association (NFPA) affirms[…]
Read More
For more information about our Commercial Lighting Services in Albuquerque or our other service areas, please call 505-246-6922 or complete our