Welcome to Energized Electric: Your Trusted Albuquerque Electrician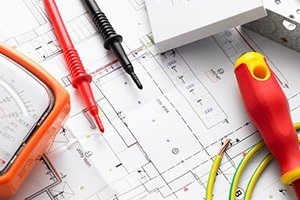 Our Albuquerque electricians are ready to meet your residential and commercial service needs. Locals trust Energized Electric for a wide range of electrical services, and we would be honored to earn your trust too.
Our skilled electricians know that you value your property and expect service excellence. We work hard to stay on top of the latest trends in technology and train hard to provide quality workmanship.
We can repair your electrical problems, install a new solar photovoltaic system, install a commercial security system, upgrade your home computer network cabling, and so much more.
With Energized Electric, you will always get superior service and a 100% satisfaction guarantee!
Get Residential Electrical Service You Can Count On

Can't use your toaster and microwave at the same time? If you need to call an electrician, you want reliable service from Energized Electric. Our residential electrical services are guaranteed to please. You'll get fast and friendly service from our electricians who have years of experience. Let us build your trust today by letting us help with electrical repairs, new installations, or upgrades.
Try Our Commercial Electrical Services Today

Fined for an electrical panel code violation? You can count on our expert electricians for commercial electrical services in Albuquerque. Our team of skilled commercial electricians can help your business operate safely and efficiently. We can solve electrical problems, add a dedicated circuit for new equipment, repair wiring, help you passcode inspections and more. Give us a try today.
What Our Clients Are Saying:
My home is in the far north valley in Albuquerque. I was in desperate need of an upgraded service panel and new service pole because of a new roof with a high pitch. After receiving several quotes, I decided to go with Energized Electric. Not only did I receive a competitive price, but I liked their honest approach. I'm glad to say I made the right choice! Energized Electric not only did an excellent job on the installation work, they went the extra mile to help me obtain the necessary permits and pass inspections, they also handled all the interfacing and scheduling with PNM. Energized Electric did what they said they were going to do, at the price they quoted. What more can you ask for? I would recommend Energized electric without the slightest hesitation! **A special thank you to Dominic!
- Armijo A.
Read More
Energized Electric was able to do my kitchen light remodeling quickly and a for very reasonable price. They are very honest and trustworthy in their advice on the job you need done, considering cost saving (but of course electrical code compliance) as well as other options you can do.
- Merlinda C.
Read More
If you are looking for a commercial or residential Electrician in the Albuquerque area, please call 505-246-6922 or complete our
Why Choose Us?
We are your one-stop shop for all your home or business electrical service needs. Our Albuquerque electricians are highly skilled, respectful, and qualified. You can count on fast and friendly service, 100% satisfaction guaranteed, and a clean and safe work-site.
Fast and Friendly Service
100% Customer Satisfaction
Clean and Safe Work Environment
100% Qualified Electricians